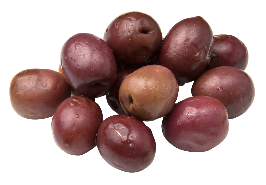 Black natural olives also called Volos or Amfissa olives come from the variety Conservolea. They used to be the leading Greek table olive during 50s-70s. Spherical shape olives, where colours vary widely from light purple to very dark purple or black. They are meaty with a soft flesh and a mellow flavour which is pleasurably sweet. These olives are only picked from the tree when they really mature and then treated in brine solution. They are harvested between mid-November and December to reach their famous deep violet black color and characteristic taste.
Black natural olives are full of antioxidants while they are rich in calcium, iron, magnesium and vitamins A and E. They are considered as a natural "shield" against heart disease.
Black Natural (Volos) olives can be processed in a variety of ways and be presented in different forms.
| PROCESSING | WHOLE | PITTED | SLICED |
| --- | --- | --- | --- |
| Natural | | | |